Hey there!
My name's Chad,
I'm an Australian: coffee snob, ice hockey lover, pun teller, truth seeker, master procrastinator, refugee/youth worker and DEFINITELY travelbug victim!
It all started in 2004, when at 22 I was fortunate enough to visit some friends in the Philippines for a 2 week short-term missions trip. I got to experience a culture so different to my own and despite the language barrier; meet some of the kindest and genuine souls.
Six months later, I went on a 2 week snowboarding trip to New Zealand … which my buddy Roth was supposed to accompany me; but then bailed last minute on me. So yeah, it turned out to be my first solo trip.
From there it was all over … I was hooked!
2009
I dropped out of my Social Science degree to do a 6 month internship a human rights organisation in the USA and Uganda. Following this I spent another half a year travelling all over North America.
I returned to Australia mid 2010 to finish off my Social Science (youthwork) degree; still saving every precious cent for my next trip!
2013
I left home in May with only my backpack, lifesavings and UK youth mobility visa with hopes of getting work in the youth/refugee sector. That didn't happen … BUT I did have THE MOST EPIC 2.5 year travel experience ever! I couchsurfed, volunteered, worked in bars and coffee shops, taught english all over Europe and parts of South East Asia and Africa.
This brings me to now … on what could likely be my last big adventure; well definitely my last "youth mobility visa" anyhow (mate it sucks getting old!). CANADA!
In this blog I'll be sharing videos, photos and all sorts of travel related posts about my adventures that hopefully will inspire you to set out and explore this wonderful world.
Either that … or just somewhere my family can check in to see that I'm still alive.
I'd love to hear from you and hear about all about your travel hopes and desires AND also would LOVE to collaborate with you if you think I'm cool enough. Click HERE to get in touch.
Happy Travels + Much Love,
Chad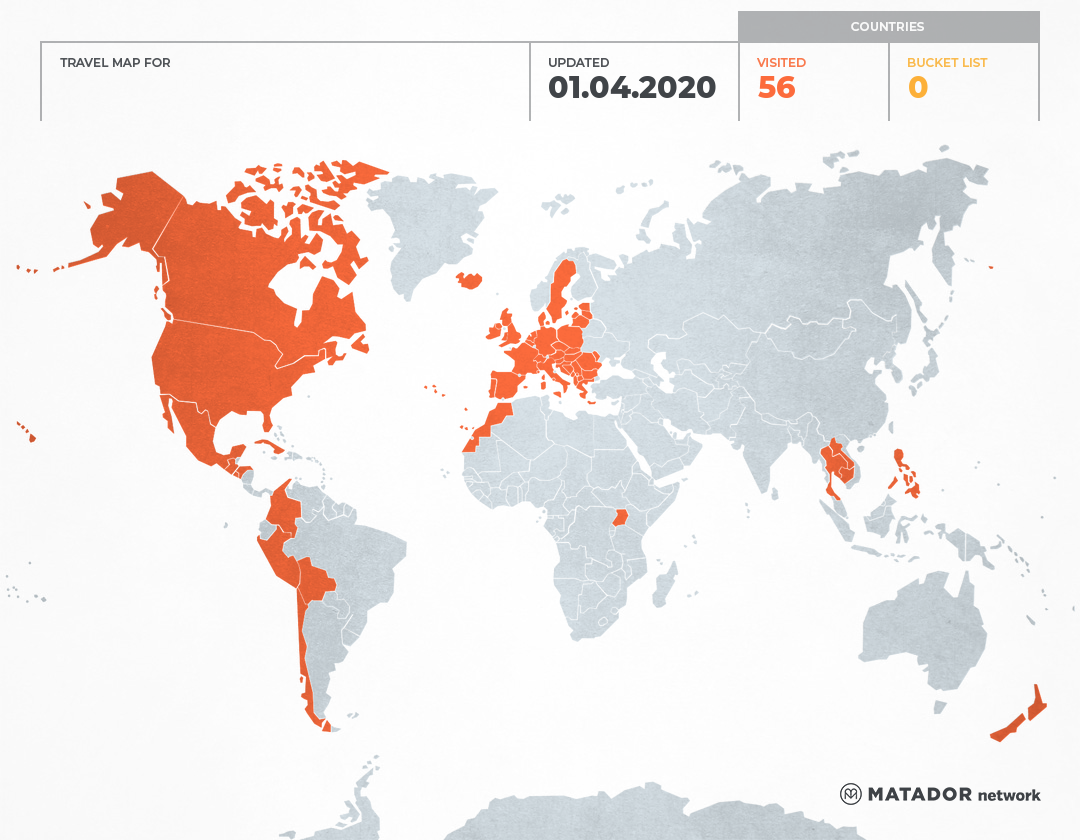 Chad has been to: Albania, Austria, Australia, Bosnia and Herzegovina, Belgium, Bulgaria, Canada, Switzerland, Czech Republic, Germany, Denmark, Estonia, Spain, France, United Kingdom, Greece, Croatia, Hungary, Ireland, Iceland, Italy, Cambodia, Laos, Lithuania, Latvia, Morocco, Macedonia, Mexico, Netherlands, New Zealand, Philippines, Poland, Portugal, Romania, Serbia, Sweden, Slovenia, Slovakia, Thailand, Turkey, Uganda, United States.
Get your own travel map from Matador Network.